Day 1 - Tuesday, Nov 30 - Evening Sponsor Mixer & Keynote Address
Keynote Address
A welcome message from Ryan Hutchison as well as keynote address from Mayor Sandra Masters. Sandra will discuss the importance of recent investments in the ag sector in the Regina region— in particular, the canola crush plants and biodiesel projects.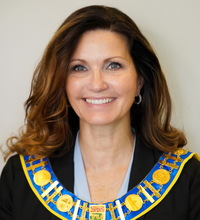 Mayor Sandra Masters
Mayor, City of Regina
Sandra Masters was sworn in as Regina's 35th Mayor on November 23, 2020. She made Regina's history by becoming the first woman…
Read More
Day 1 - Tuesday, Nov 30 - Evening Sponsor Mixer & Keynote
Keynote Presentation: Lakeland College
Josie will discuss how Lakeland College is working to address the demand for qualified persons in the agriculture technology space with their new Ag. Tech Program.
Josie Van Lent
Dean, Agriculture Technology & Applied Research, Lakeland College
Tweet to @josievanlent
Josie is currently the Dean of Agriculture Technology and Applied Research at Lakeland College. For thirteen years prior Josie was the Dean of…
Read More
Day 1 - Tuesday, Nov 30 - Evening Sponsor Mixer & Keynote Address
Keynote Presentation: Canada Agri-Food Market Outlook – Where Are We Going?
With ever an increasing population and global food demands Canada is well positioned to be a leading global agri-food supplier. How will technology affect the face of agricultural exports over the next 20 years as Canada works to meet the demand for a high protein, sustainable food source.
Murad Al-Katib
President and CEO, AGT Foods and Ingredients
Tweet to @muradagtfoods
Murad Al-Katib, President, CEO and Board member of AGT Food and Ingredients Inc. An international agri-food, strategic business and financial thinker,…
Read More
Day 2 - Wednesday, Dec 1 - Keynote- Soil & Water Management CEUs: 1
Dryland Agriculture from a Water Balance Perspective
Dryland agriculture from a water balance perspective: Linking winter and summer hydrological processes to maxamize agricultural opportunities.
Phillip Harder
PHD
Research Associate - Centre for Hydrology, University of Saskatchewan
Tweet to @harder_water
Phillip Harder is a Research Associate at the Centre for Hydrology at the University of Saskatchewan who has a board interest in understanding the…
Read More
Day 2 - Wednesday, Dec 1 - Breakout Session - Integrated Pest Management CEUs: 1
The Chickpea Project
Project Summary: Symptoms of a health issue were first reported in chickpea fields in southern Saskatchewan during the 2019 growing season and have continued to be observed during the 2020 and 2021 seasons. A definitive cause of the health issue in chickpea has not been identified but work is ongoing to continue to rule out causative factors. In an effort to understand the soil moisture and environmental conditions conducive to the onset of the health issue, a collaboration with SPG, Crop Intelligence, and chickpea growers in southern Saskatchewan occurred during the 2021 season. 5 field-scale chickpea monitoring sites were established and monitored on a regular basis throughout the season. As part of a larger survey initiative, plant samples and field management history were also collected to gain further understanding about the impact of herbicides, moisture, disease and fungicides on chickpea.
Please consider joining us. Further conversations and discussions are welcomed to protect this important pulse crop.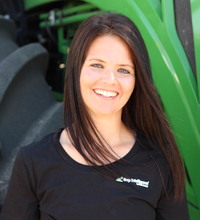 Vanessa Bell
BSA
Agronomist, Crop Intelligence
Tweet to @vfogal25
Vanessa joins us as a Crop Intelligence Agronomist and will be supporting customers out of the Mossbank, Assiniboia, and Moose Jaw regions. Vanessa…
Read More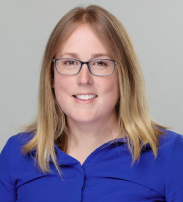 Sarah Anderson
Agronomy Manager, Saskatchewan Pulse Growers
As Agronomy Manager with The Saskatchewan Pulse Growers, through extension with agronomists and growers, Sarah leads agronomy projects and…
Read More
Day 2 - Wednesday, Dec 1 - Interactive Breakout Session
Get to Know Your Station – Equipment Overview & Best Practices
Christine and Trevor will give an overview of the Crop Intelligence station and its sensors. Reviewing the in-field set-up steps is critical to ensuring good data for the season. They will go through a station optimization and identify what needs to be checked every time you go by the station.
Christine Jones
CCA
Project Co-ordinator, Crop Intelligence
Tweet to @cwjones22
Whether it's hopping into a piece of machinery or digging in a field to validate the equipment feeding the Crop Intelligence program, Christine…
Read More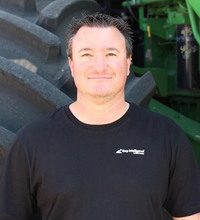 Trevor Fraser
Certified EST
Hardware Specialist, Crop Intelligence
Trevor Fraser is a hardworking, goal-oriented individual who aspires to lead and grow the hardware aspects of the Crop Intelligence Program. With an…
Read More
Day 2 - Wednesday, Dec 1 - Breakout Session - Nutrient Management CEUs: 1
Nitrogen Strategies to Manage Risk and Maximize Yield
Every year, our crops leave behind some nitrogen and more is released from organic matter. Andrea will review the value of soil testing for crop planning and in-season nitrogen strategies to minimize risk and maximize yield.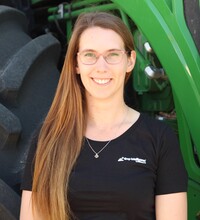 Andrea De Roo
M.Sc. P.Ag. CCA
Agronomist, Crop Intelligence
Tweet to @ACDeRoo6
Andrea De Roo is an agronomist with South Country Equipment and farmer in southeast Saskatchewan. She obtained her Bachelor of Science in Agriculture…
Read More
Day 2 - Wednesday, Dec 1 - Breakout Session - Professional Development CEUs: 1
Tools to Support the Agronomy
Tyler will take us through the various agronomic tools he uses in his agronomy business to support his customer. Discussing the value this enables him to provide his clients with solution enabling profitability and environmental sustainability.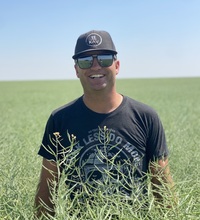 Tyler Kessler
Independent Consulting Agronomist, Kessler Ag Ventures
Tweet to @KAVagronomy
Tyler graduated from the U of S in 2007 with a Bachelor of Science in Agriculture. The first seven years of his career were spent in Weyburn working…
Read More
Day 2 - Wednesday, Dec 1 - Breakout Session- Nutrient Management CEUs: 1
B*tch'n Agronomy – Tissue Test PhD
Critical nutrient planning is important for every farm. This presentation will help you understand the importance and value of a tissue test in relation to soil tests, water, environment, and yield. It will also dive into interpretation of local tissue examples, show case Crop Intel Tissue Test PhD project, and talk about future possibilities using the data. Strap-in, hold-on tight, because you're going to learn more about tissue sampling in 1 hour than 99% of industry professionals.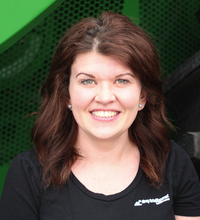 Kara Fowler
BSA
Agronomist, Crop Intelligence
Tweet to @karafow
Kara Fowler is an agronomist with South Country Equipment and resides in Moose Jaw, Saskatchewan. She obtained her Bachelor of Science in Agriculture…
Read More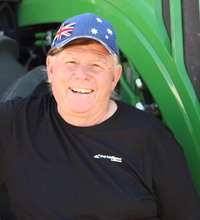 Elston Solberg
M.Sc., P.Ag.
Agronomist ; Co-Founder, Crop Intelligence ; EarthDirtSoil
Elston grew up on a small dairy farm near Ryley Alberta where his passion was baseball and hockey as a player and coach. Later he served on council…
Read More
Day 2 - Wednesday, Dec 1 - Keynote - Nutrient Management CEUs: 1
Making the Most from your N and P Investment in a Highly Variable Environment
Don will discuss options for addressing the agronomic challenges of growing high-yielding crops while dealing with variability in soil supplies and crop requirements for N and P at various spatial scales (e.g., regional, field-to-field, within field) as well as variability over time (e.g., weather and soil effects on N losses and gains, crop responses to P fertilizer, and variability in crop/fertilizer prices).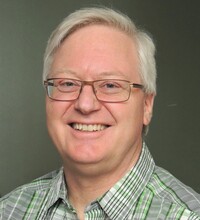 Dr. Don Flaten
Professor Emeritus, University of Manitoba
Tweet to @donflaten1
Dr. Don Flaten recently retired from the University of Manitoba, where he was a professor in soil fertility, crop nutrition, and nutrient…
Read More
Day 2 - Wednesday, Dec 1 - Panel Discussion - Crop Management CEUs: 1
Industry Panel - Collaboration and Opportunity in Ag-tech
Ryan Hutchison will lead a conversation with industry leaders in the opportunity industry has for collaboration within the ag-tech space. Specifically looking at both opportunity and challenges of integrating data and various platforms and the value this can bring to both industry and their customers.
Bonus Content
SYNTHOS from Koch Agronomic Services
The Phoenix Group
Sask Pulse Growers
2021 Virtual Field Day (Customers Only)
Join us for 2021's virtual Field Day! Our team met out in one of the field's we first installed a moisture probe on and chatted about our equipment, our data and how best to apply them on your farm.
To view the full day's worth of content, sign in to your CropIntel account and visit this link: https://cropintel.ca/sign-up-test/virtual-field-day
Yara
MLT
Realm Five